Fish – We have catfish, bass and bluegill in our pond. There are LOTS of bluegill which are easy for the kids to catch! Our pond is catch and release so we always have plenty of fish.
Swim (The pool is open again) – We have a big pool, not heated, but it feels great on warm days.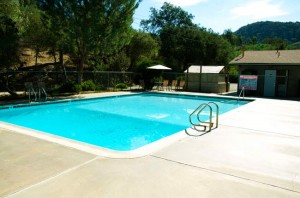 Play Volleyball – We provide the volleyball and the volleyball court.
Play Horseshoes – We provide the horseshoes and shady horseshoe courts.
Grass Area – Have a picnic, play some croquet or bocce ball.
Recreation Hall (Due to Covid19, capacity is limited) – Watch a movie or a sports game.
Visit The Animals – We have plenty of ducks that love to be fed cracked corn, including Scott, our Muscovey duck. He loves to visit with people by the pond and beg for food.
We have pygmy goats, chickens and a miniature steer.
Besides them, you are likely to see a covey of quail, a heron and egret that come to visit. Keep your eyes open as you never know what creature you might see!
Weather permitting, relax around a campfire and make some Smores.
We look forward to having you and your family at our kid-friendly Southern California campground soon! Contact us today to learn more!
We kindly request that you do not feed any of the animals as there are foods that may be toxic to them.